For swimmers ages 7-18 years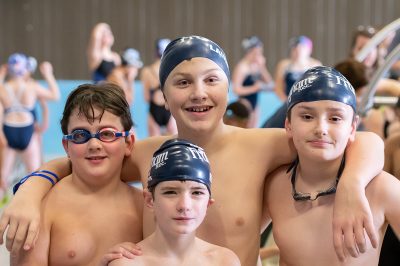 For the 2023 – 2024 Season our practices are held on Tuesdays, Fridays, and Sundays at the Atkinson Pool in Sudbury.
Based on the number of swimmers and abilities, the coaching staff may request some swimmers change their practice time.
11 and unders
Tuesdays 6:00-7:00pm
Fridays 6:00-7:00pm
Sundays 3:00-4:00pm
12 and older
Tuesdays 7:00-8:00pm
Fridays 7:00-8:00pm
Sundays 4:00-5:00pm
Please make sure your swimmer has a swim suit, googles, swim cap, water bottle and other equipment they may need during practice.  Many swimmer find it helpful to have their swim bag packed the night before a practice, ready to go.
Swimmers are expected to attend every meet and participate in Regionals.  
In order to qualify for Regionals, swimmers must compete in at least 5 dual meets throughout the season.
The meet calendar will be provided at the beginning of the season.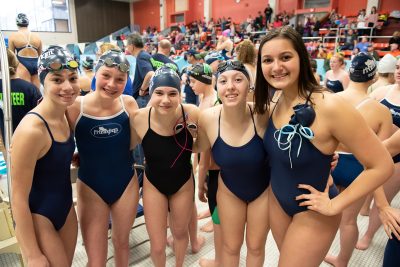 Swimmers should arrive and leave in their suits.
No running
No diving in the pool unless of the blocks with a coach.
We are sharing the pool with other swimmers and programs so we need to be respectful of others as well as the facility.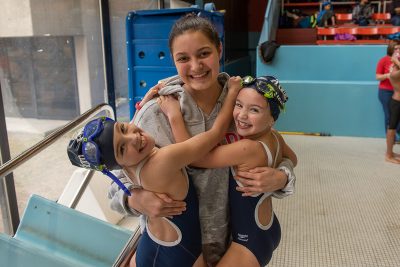 The team has a zero tolerance policy for any behavior that puts people, property or the team at risk. Behavior that, in the opinion of the coaches and of the Framingham Recreation Department, is inappropriate will be grounds for suspension or dismissal from the team. If any conflict arises, please let a member of the coaching staff know immediately.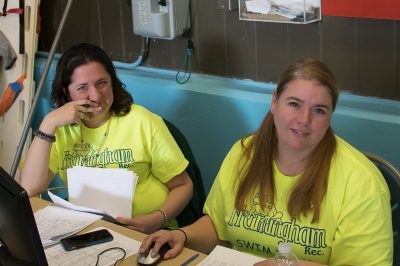 Family Volunteer Commitment
Framingham Swim team is coordinated by a volunteer parent steering committee and each family is responsible for completing a family volunteer commitment each season. Every family is responsible each season to volunteer.  With the size of our team this year, you should have the expectation that you will have to help at a majority of the meets.   The Framingham Recreation Department requires every family to volunteer and support the recreational leagues. Failure to fulfill the volunteer commitment is grounds for dismissal from the team. Volunteers are needed at every meet for timing, scorekeeping,  officiating, and bullpen. Training is provided at the beginning of the season. We also need volunteers to coordinate team parties, fundraising, and other activities. Volunteer "sign-ups" are sent via email or accessed through the team website.